Thus begins a new portion of my blogging repertoire. I'm just lusting after too many things these days to keep it all pent up inside -- instead I'm releasing it to the masses on the internet (maybe Twitter?).
Now for the lust list:
1.
I love this t-shirt. When my sister and I were in Quebec City our sole mission was to find a t-shirt with French print, but all we found were shirts with "Cape Cod" tauntingly scrawled across the fronts. Five years later I stumble across a hot pink shirt with the phrase "I'm too sexy for this shirt" translated in French in block letters. Destiny? (via
alex
andchloe.com
)
2.
Brian Lichtenberg racerback tanktop. Probably just want it because it looks more than just a little like Chanel. (via karmaloop.com)
3.
So worth all that money. I've been lusting after this for a while -- it might be the image of this stereo from
Urban Outfitters
perched on my shoulder while walking to class.
4.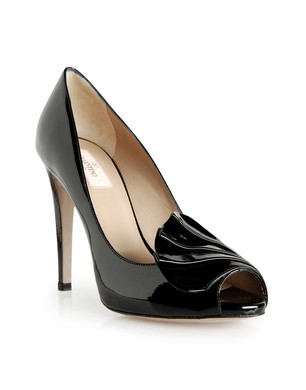 I've been on the fence about peep toe shoes; they've always seemed a bit awkward to me. After trying some on, however, I might be rethinking my stance. Especially after seeing this Valentino pumps. Seeing as they're on sale for $465 (original price $775), I'm not sure I'll ever get to experiment with this particular pair of shoes. ::sigh:: (via
valentino.com
)
More lusting to come.