I absolutely adore the
Vogue Collections
lookbook. My first year of college one of my roommates had one and fawned over it as though it was a volume of Biblical proportions. She was wealthy, had articles of clothing that would have devastated my bank account, and flaunted her fashion knowledge as often as someone was around to listen. I saw that glossy Fashion Eden then as something completely foreign. I know that if I had browsed its pages with her I would not have seen the clothes, but the names -- Chanel, Chloe, Balmain, YSL -- in other words, "don't even think about it, Rachel."
What I realize now is that my former roommate used fashion as a way to distinguish herself from others as so many girls of means do. This is what I'm working to fight against. Fashion should not be used as a way to suggest superiority over others because of a lack in self confidence. It should be, rather, an extension of your personality. Properly wielded, fashion is a weapon to make one feel secure and confident. It is not a tool to make others feel small and excluded.
When I study the collections in the Vogue lookbook now, I see them tools for inspiration, ideas that can translate to my daily life despite my inability to throw down 600 dollars on a summer frock. The next few posts will be dedicated to my new favorite designers as discovered in the Spring/Summer 2010
Vogue Collections
. The first is Tsumori Chisato.
I find her charming for several reasons, one of them being that her Wikipedia page is strikingly brief, as is her spread in the Vogue lookbook. While other designers received a large paragraph dripping with detail, they succinctly describe the Japanese designer's collection as "both charming and witty, with myriad free colour combinations, motifs and flounces, pleasingly rounded volumes and draping for a relaxed and relaxing season." I want to draw attention, however, to what is possibly one of my favorite pieces and would be easy to overlook amongst its big name peers.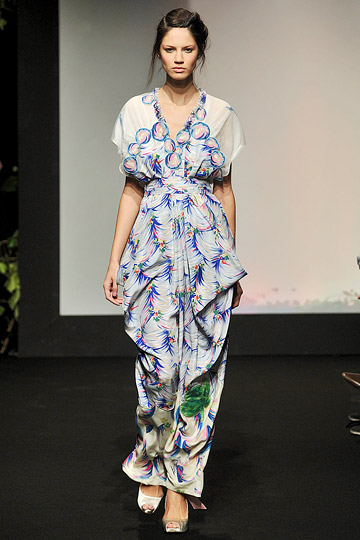 This dress is just a dream. The print is gorgeous, the silhouette is flirty and feminine, and it looks like it would be remarkably comfortable. I adore it and hope that I can replicate it when the temperature rises in a few months. Moral of the story is: Check out Tsumori Chisato's collection
here
.